Regular price
$199.99 USD
Regular price
Sale price
$199.99 USD
Unit price
per
Sale
Sold out
Every month we are featuring a different American Wagyu package of cuts for you to enjoy at a sweet price. Lasso this deal before its going, going, gone. 
2 Filet/Tenderloins (approximately 1.5" thick, 0.4-0.6 lb per steak)          
1 Rib Steak (approximately 1.25"-1.5" thick, 1.5-1.7 lbs) 
1 Flap Tips Steak (approximately 0.9-1.2 lbs)  
1 large London Broil Steak (approximately 1.5-2 lbs) 
5 packages of ground beef (approximately 1 lb packages) 
Dry aged approximately 14-21 days

Pasture raised

Processed and vacuumed sealed at USDA inspected facility

Grass fed, grain finished

Raised in Vermont

No added hormones

No antibiotics

Eco friendly shipping materials
 
All beef is shipped frozen with dry ice in our eco-friendly shipping materials and will arrive frozen/partially frozen/chilled. 
*Please visit our Shipping Information tab to review our shipping policies before placing order.* 
Shipping Information

There is a minimum order cost of $99 to ship. Our shipments go out on Tuesdays, so please have your order in by Monday or it will be shipped the following week. For more shipping information see our Shipping Info page.
Share
View full details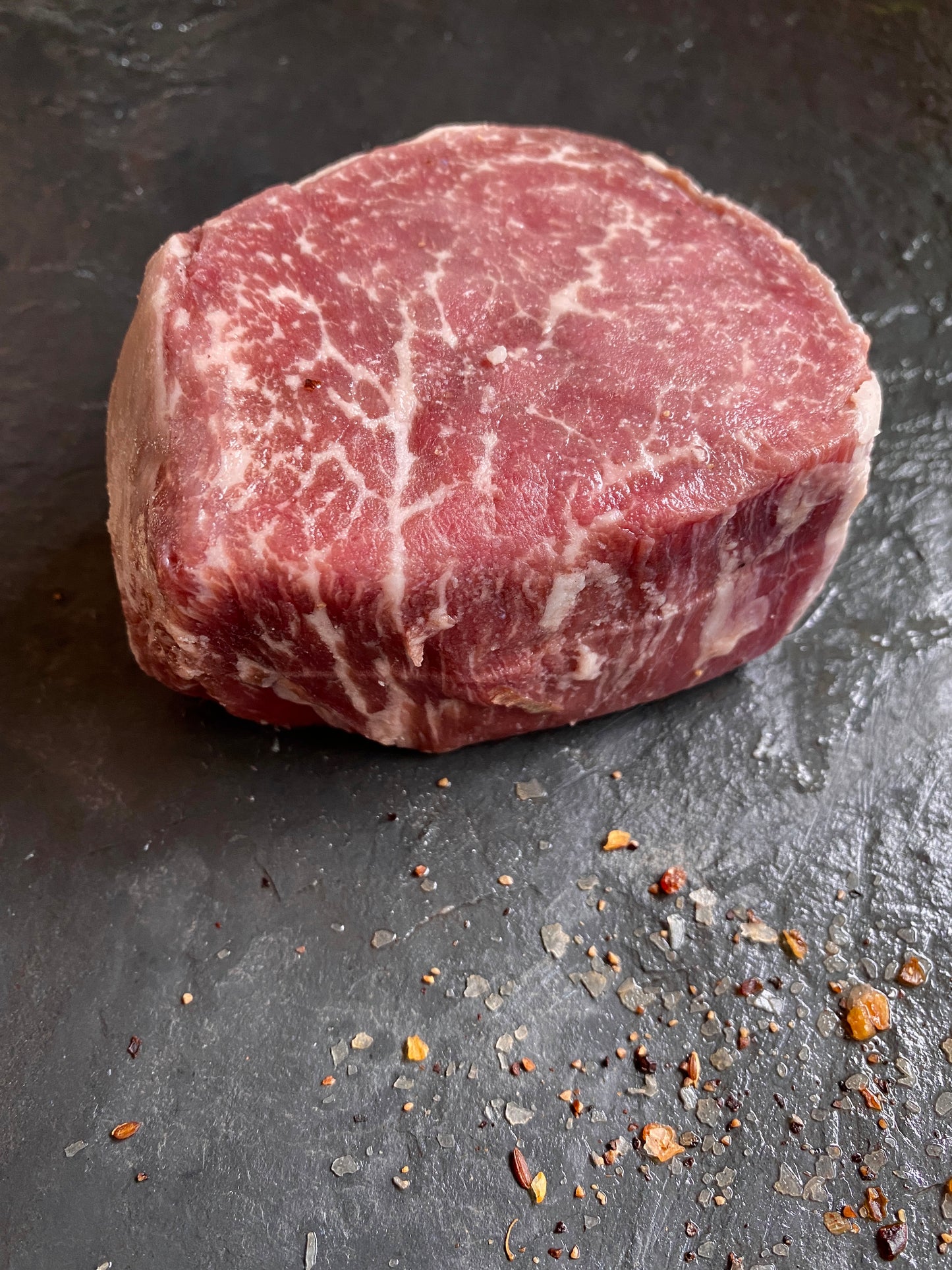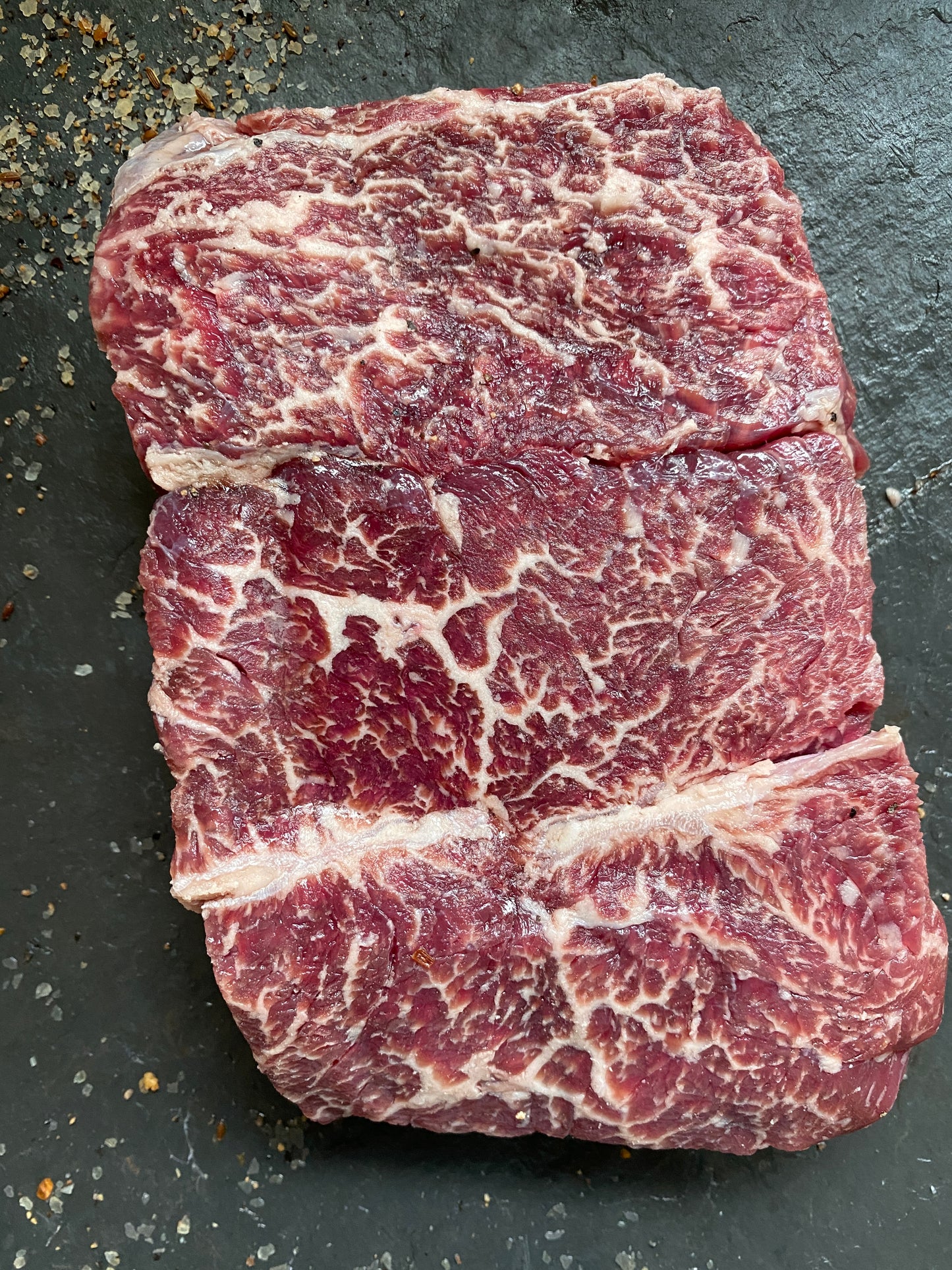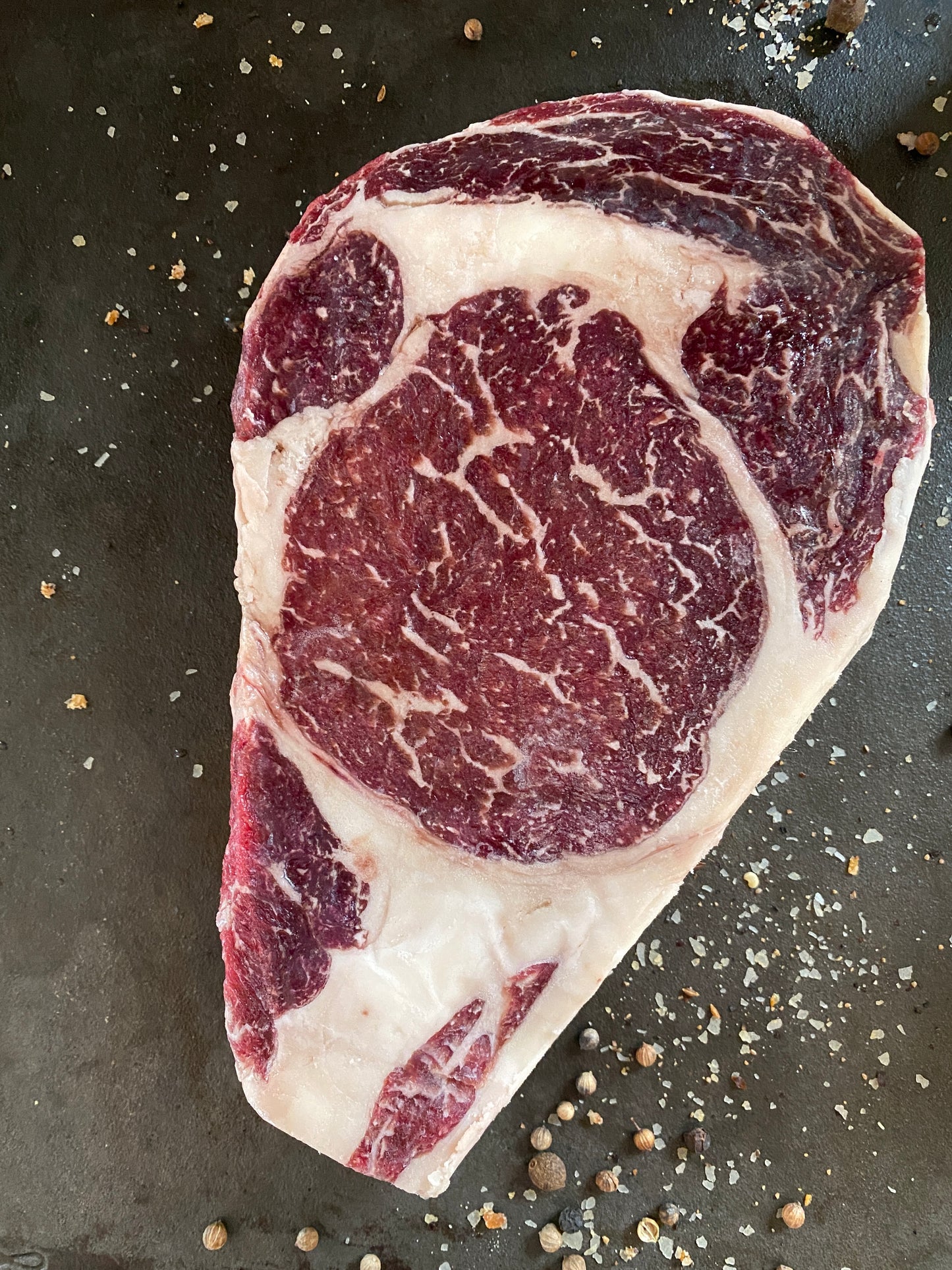 Our Shipments

We ship our flavorful, premium cuts in eco-friendly packaging materials from our family farm in Vermont to your front porch. Never be disappointed again by the lack of quality beef at your local supermarket!

Farm Fresh Vermont Wagyu

Enjoy American Wagyu beef raised in the rich, green, scenic pastures of Vermont. Savor our juicy, mouth-watering beef that reflects the superior quality that Vermont products are known for.
Tips on Preperation
Take your thawed steak out of the refrigerator 30-60 minutes before cooking to reach room temperature. Never use a microwave! This process will help the steak cook more evenly. Salt both sides of the steak to create a crispy, flavorful sear. There is no need for heavy seasonings or marinades as they will only bury the sweet, juicy flavor of the beef. Most will agree that Wagyu beef is best enjoyed medium-rare but that's up to you. And be sure to avoid over cooking or the steak will lose all the marbled fat and the meat will become tough. 
Nothing Beats A Pan-Fried Steak
Use caution when cooking Wagyu beef on a grill. The steak will lose it's buttery fat and it will drip into the grill causing flare-ups. This can unevenly cook the steak or cause it to burn. Remember, the fat marbling is what gives Wagyu beef most of its flavor. For that reason, we prefer to panfry our Wagyu steaks in order to preserve the rich, flavorful marbling. Our favorite method of preparing Wagyu steak is using a combination of a cast iron pan and the oven. We pan-sear a 1lb. 1 inch thick steak in a lightly oiled cast iron pan for no more than 2 minutes on each side on med-high heat. The cast iron pan is then transferred to the oven preheated to 35f for about 8 minutes.
But How Long?
Since heating on stoves and ovens may vary, meat thermometers can be very useful in achieving the desired temperature of your steak. See our steak temperature chart to find your perfect temperature. Last, but not least, before cutting or poking, remember to let your steak rest for 5-10 minutes to allow the delicious beefy juices time to reabsorb into the meat. Now you're ready to cook that beautiful piece of meat! Enjoy!